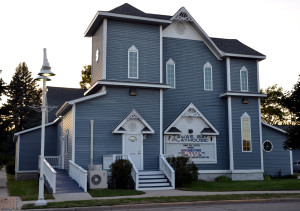 Tawas Bay Playhouse is located at 401 Newman Street in beautiful East Tawas, MI 48730.  For over 30 years, our goal has been to provide quality theater to the sunrise side of Michigan!
(Our mailing address)
Tawas Bay Players
P.O. Box 607
Tawas City, MI 48764
Our Mission Statement
     The purpose of the Tawas Bay Players is to promote and encourage theatre in our community by providing quality educational and/or entertaining productions, utilizing talents within the local area. The Tawas Bay Players will provide educational experience in play productions encompassing the following: directing, acting, make-up, stage design, lighting, scenery, costumes, as well as all aspects in promotion and public relations, in any and all other activities as it regards the establishment of such a theatre group.
BOARD MINUTES
November 28, 2017 Approved Minutes
October 24, 2017 Approved Minutes
September 26, 2017 Approved Minutes
July 25, 2017 Approved Minutes
June 27, 2017 Approved Minutes
April 25, 2017 Approved Minutes
March 28, 2017 Approved Minutes
February 28, 2017 Approved Minutes
January 18, 2017 Approved Minutes
November 22, 2016 Approved Minutes
October 25, 2016 Approved Minutes
September 27, 2016 Approved Minutes
August 12,2016 Approved Annual Meeting Minutes
July 26, 2016 Approved Minutes
June 28, 2016 Approved Minutes
April 26, 2016 Approved Minutes
March 22, 2016 Approved Minutes + Lending Policy
February 23, 2016 Approved Minutes
January 26, 2016 Approved Minutes
December 22, 2015 Approved Minutes
November 24, 2015 Approved Minutes
October 27, 2015 Approved Minutes
September 22, 2015 Approved Minutes
August 9, 2015 Approved Minutes (Annual Meeting)
July 28, 2015 Approved Minutes
June 23, 2015 Approved Minutes
April 28, 2015 Approved Minutes + Adjudication Info
March 25, 2015 Approved Minutes
February 17, 2015 Approved Minutes
January 27, 2015 Minutes Approved Minutes
November 25, 2014 Approved Minutes
October 28, 2014 Approved Minutes
September 30, 2014 Approved Minutes
August 10, 2014 Approved Minutes (Annual Meeting)
July 22, 2014 Approved Minutes
June 24, 2014 Approved Minutes
April 22, 2014 Approved Minutes
March 25, 2014 Approved Minutes
February 25, 2014 Approved Minutes
January 28, 2014 Approved Minutes
January 6, 2014 Approved Minutes
To find out what's happening in the Tawas Area, check out the Tawas Area Chamber of Commerce Site.    http://www.tawas.com